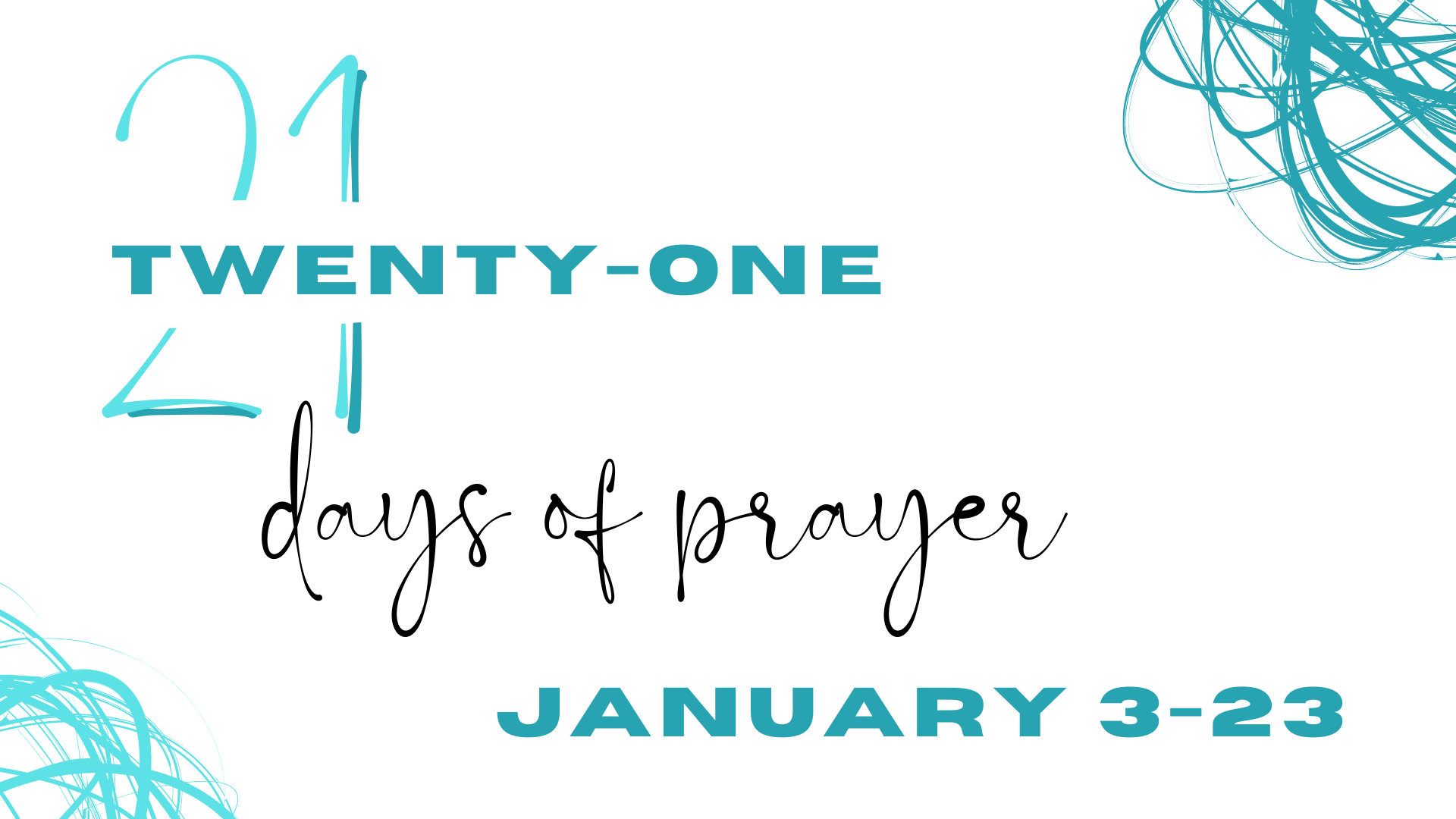 1 Corinthians 9:27
"But I discipline my body and keep it under control, lest after preaching to others I myself should be disqualified."
At the beginning of each year, we set aside time for prayer and fasting as a church. We encourage each individual to pray and ask God what he would lead them to do for this time of fasting.
We seek God and set aside distractions to see what God has for us coming up this year. This time creates a lense, a theme and a focus for us.
Prayer
: connects us to God
Fasting: disconnects us from the world. 
Ask God what he would have you do for this time.
Morning Prayer
Monday – Friday 6:30 – 7:30AM
Saturday 9 – 10AM
Night of Worship: Jan 12th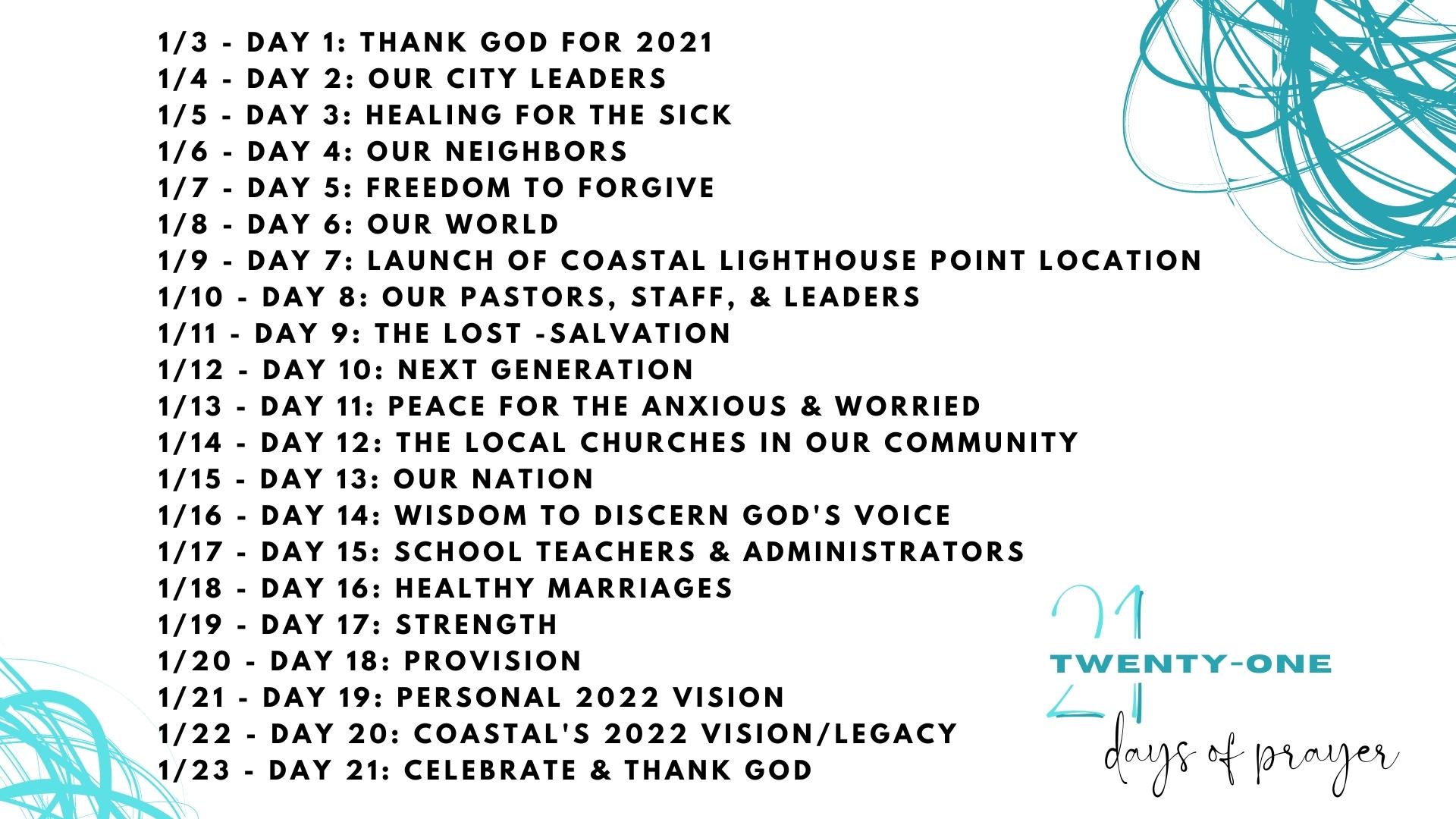 Frequently Asked Questions
What exactly is fasting?
Fasting is an important element in our walk with Christ. During fasting, we take time to silence distractions and get alone with God. In our noisy world and culture, this is especially relevant.
When we are less distracted, we can hear from God and His word. This clarity and intentionality brings the focus on God, rather than ourselves.
What do I do?
Don't just give something up, but be sure to fill the time you would have spent with consuming food or media with time in prayer and the word of God. Step outside of your normal routine. Go for a walk during lunch time, wake up early, spend time in silence. Go outside with only your Bible and journal.
During our service, you will be encouraged by our passionate, full band worship team, relevant and creative message that will challenge and empower you. You will notice that we are very modern, casual, upbeat, and simply put fun, but more importantly, we are a Christ-centered church. Coastal revolves around a central theme of Loving God, Loving People & Showing it.
What resources are available?
We love to equip you in this 21 Day journey! We have Pray First guide booklets available for everyone. Simply attend a weekend service or one of our early morning prayer gatherings and pick up your booklet. Also, each day has a prayer focus, these will be made available on your worship guide.
Can I come for Morning Prayer?
Come to the Auditorium for Morning Prayer! From January 3th-23rd we will host Morning Prayer Monday – Friday from 6:30 AM- 7:30 AM and Saturdays at 9 AM. There will be a daily prayer focus and short devotional each morning. After the devotional we will play worship music on the speakers, dim the lights and continue in a time of personal prayer.
Please know, Morning Prayer continues all year! For the rest of the year we will have Morning Prayer continuing each Wednesday at 6:30 AM.
What could I fast?
Fasting can take many forms. Consider fasting something that is important to you, so that you can spend more time focusing on the God in prayer. During this time you may consider giving up TV, social media, food, sugar, meat, or drinking alcohol.
Pray for what God is specifically calling you to do.
Is someone available to pray with me?
Yes! We love coming alongside you and lifting one another up in prayer! There are ministry leaders available before and after every service and each morning of 21 Days of Prayer at The Hub directly across from the Coastal Cafe. 
New to Coastal? Plan your visit to Coastal Community Church in Parkland or Lighthouse Point and we will donate 10 meals to individuals in need!